As a new bee keeper in Florida it is important to know what plants are in bloom in your area. Here is a recommendation from the University of Florida on the management of beekeeping in the state of Florida. http://edis.ifas.ufl.edu/in848. As an organic beekeeper keeping TBH, I do not agree with pest management, but would rather have a strong hive with good strong feral stock, allowing them to draw out their comb naturally without foundation. Hopefully this organic way of beekeeping will allow them to manage their pest without the use of artificial pesticides. I do however; use this page to follow what plants are in bloom in the state of Florida. Right now in my back yard my palm trees are blooming. Last week when I was looking for the Atala butterfly in my yard, I also discovered all the bees and blooms around the Christmas tree palms. It was amazing because there were so many bees around these blooms.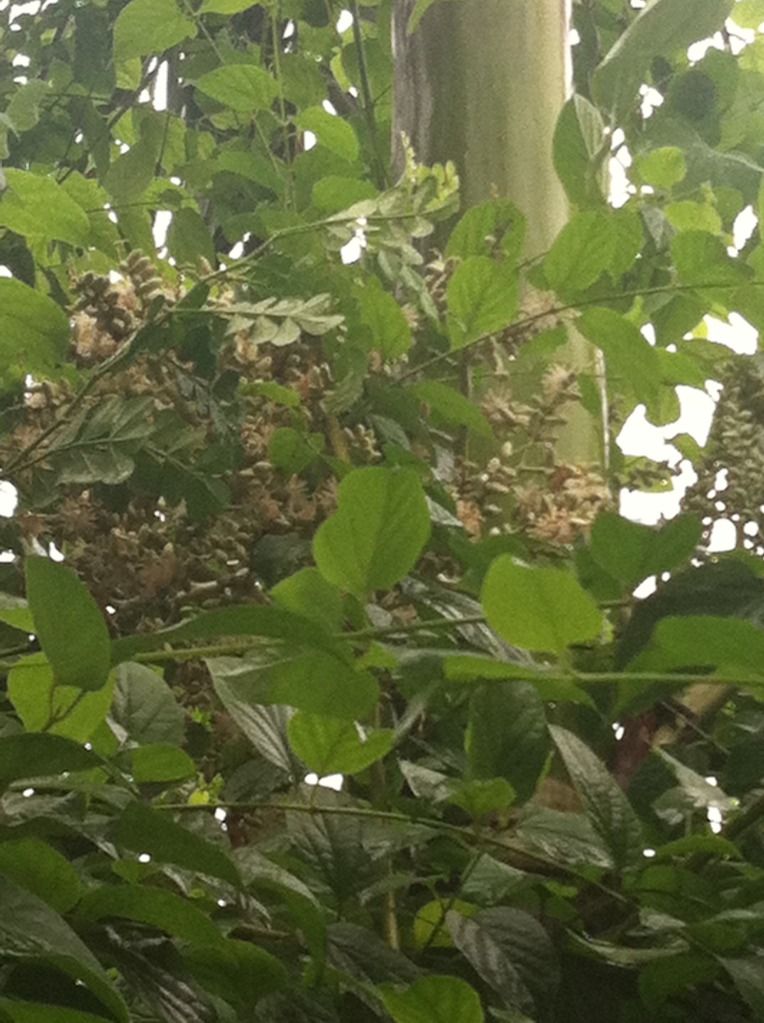 The bees seem happy in my yard. If those are not my exact bees at least I am providing enough nectar and pollen sources to keep the foragers happy.
I went back into my hives and they are looking very good. I need to split my 4th hive again. The queen in that hive is so productive. Her laying pattern is amazing!! I feel like I am raising a "box of brood." That hive doesn't produce a lot of honey but has allowed me to make several divides this year. As I inspected hive #3 I found a ball of bees. My mentor Inese was with me and she thinks they were balling the queen. We did find eggs, larvae, and capped brood present in the hive, but we would expect to since they were balling her as we entered the hive. This behavior from what I have read is very typical of Africanized Bees. I need to go back into that hive in a few days to see if there are queen cells present then I will know for sure whether it is queenless or not.
The bees were very gentle the other day. I didn't receive any stings, which was greatly appreciated. However their behavior lately has been extremely irritable. As a beekeeper I try to understand what might be making them irritable. Their hives are not over crowded, they are not honey bound, but two weeks ago hive #2 was queenless with numerous queen cells present. Now hive #3 may be without a queen, if in fact they were balling her. Hive #4 has room in the brood area but the hive is almost full and needs to be split. The nectar flow in July and August is not good. All these examples can make bees irritable. I know my bees do get aggressive when they are queenless because they have chased me around the yard. Last week they stung my pool guy and this week they stung the yard guy several times, enough that he needed to go to the clinic. From what I could find out he is ok but my yard men are not coming back until I get rid of the bees. My husband is concerned because he doesn't want the bees harming anyone, I mean, I could have died a month ago from my anaphylactic reaction and we cannot afford to have anything happen to anyone either. So right now I am very upset because I really do not want to get rid of my bees. My beekeeping started because I wanted to help the bees but I can also honestly say that I enjoy all aspects of beekeeping from taking care of the hives, to all the wonderful by-products the hive provides.
I talked to my mentor Kate out in Santa Fe Saturday morning. We decided that this might be the perfect time to requeen the hive. Since I need to spilt hive #4 this week, I could get a nice Italian queen instead of allowing that hive to make a queen, and then I might be able to see if I notice a difference in temperament. If I do I may actually requeen all the hives except hive #4 since that queen is my best laying and strongest hive. I know that a strong feral hive is the best, more resistant to disease and pest, more acclimated to my environment. Having aggressive bees doesn't exactly make my beekeeping hobby enjoyable. As Kate has said to me "Life is too short to have mean bees." I do not need to be worrying about the safety of myself or others. So I have decided that getting a new queen might be the answer. I guess time will tell…. Hence the saga continues…. Wish me luck!